Monumental Marathon | Team World Vision
Saturday, November 04, 2017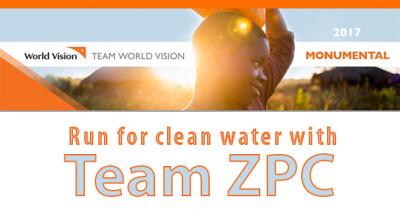 Nearly 1,000 children under age 5 die every day from diarrhea caused by contaminated water, poor sanitation, and improper hygiene. But World Vision believes the global water and sanitation crisis can be solved within our lifetimes. They focus on providing clean water and sanitation to every man, woman, and child in every community they work in, including the most vulnerable populations in the hardest-to-reach places.
WORLD VISION IS THE LARGEST NON-GOVERNMENTAL PROVIDER OF CLEAN WATER IN THE WORLD. LAST YEAR THEY REACHED OVER 4.6 MILLION NEW PEOPLE WITH CLEAN WATER.
ZPC is partnering with Team World Vision to raise money for clean water through participation in Indianapolis's Monumental Marathon.
CHECK US OUT ON