Sunday, December 17 | For God so loved IN-N-OUT Burger
Editor's Note

About the authors:
Jon Graybeal is ZPC's director of student ministries. He and his daughter Emma have been involved at ZPC since 2011. Jenna MacLean is a student ministries intern at ZPC. She is planning a May wedding with her fiance Jake.
About this post:
This blog post is part of a series of daily devotionals where we are exploring traditional Advent themes of waiting, mystery, redemption, and incarnation. To sign up to receive text notification of these posts, text
zpc advent
to 39970. Advent booklets are also available at the ZPC Welcome Center. We welcome your comments and questions each day.
Redemption | John 3:16-21
Of the thirty-one thousand, one-hundred and two verses in the Bible, John 3:16 is without doubt the most widely known of them all. You see it at sporting events; you see it on the bumpers of cars; you see it on t-shirts;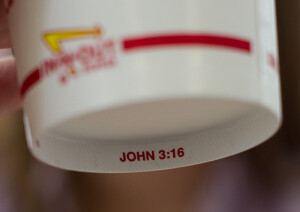 you see it under Tim Tebow's eyes; and, if you've been out west recently and stopped by the greatest fast food burger joint known to humankind
and you looked closely, you noticed that John 3:16 is even on the bottom
of IN-N-OUT BURGER's cups. Yep! For God so loved the world and IN-N-OUT BURGER.
How is it that one verse has become the poster child of Christian faith and scripture? Maybe it's because it just might be the most concise statement of what the gospel is all about. Redemption. Despite our short comings, despite darkness, despite evil and despite death, there is a light, there is salvation and there is redemption….for everyone. The verse reminds us that our God redeems and compensates for our faults through his son Jesus. The verse reminds us that God didn't just love us, he SO loved us, he SO loves you and he SO loves me. We are SO deeply loved by Jesus and yet not one of us has done anything to earn it or deserve it. We are a redeemed people.
In the midst of my own shortcomings and in the midst of darkness and evil, I often have to remind myself that I am redeemed. We are redeemed and as redeemed people we're to remember that we are loved so that we might love others; we're to remember that we are saved so that we might offer that same gift we've come to know to others; we're to remember that death and darkness do not have the last word so that we might truly live; we're to remember that God SO loved us that he redeemed us through his one and only son.
Activity
Pass around note cards or paper and have everyone write down a fault, failure or shortcoming they see in themselves. Then light a candle and burn up the note cards to symbolize our redemption: Jesus' light taking away our sins. Keep the candle lit throughout the week as a reminder that His light shines into the world. Discuss as a family how you can practice seeing yourself and others as loved redeemed.
Prayer
Lord,
Thank you that you sent your son to die for us. We are overwhelmed by your love for us. Help us to see ourselves and to see others through your eyes. Help us to see ourselves as redeemed and loved, rather than focusing on our shortcomings. Help us to see others–our neighbors, our friends, our family–as redeemed and loved. Give us your eyes; we want to see your light. We love you. Thank you for the cross.
In your son's name,
Amen.