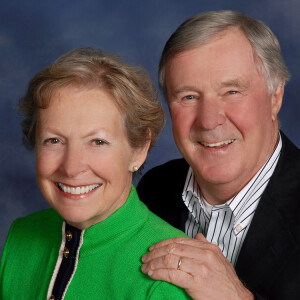 About the Authors: Becky and Steve Furste have lived in Zionsville since 1991 and have been members of ZPC since then. They have 4 children and 5 grandchildren living in Seattle, Phoenix, Albuquerque, and Indiana. Steve has been a speaker and table leader at the Great Banquet, served on the Mission Commission, is active with the ZPC Thursday Morning Men's Group, and now is a deacon serving as a member of the Community Assistance Ministry. Becky has assisted Lisa Price with office duties, was a Great Banquet speaker, assisted with the Food Pantry and enjoyed the Women's Conferences. They have both valued ZPC's Home Group experiences.
About this post: This blog post is part of a series of daily devotionals for Holy Week. To sign up to receive text notification of these posts, text zpc devo to 39970. We welcome your comments and questions each day.
John 13:1-17; 33-35
Jesus Washes His Disciples' Feet
It was just before the Passover Festival. Jesus knew that the hour had come for him to leave this world and go to the Father. Having loved his own who were in the world, he loved them to the end.
The evening meal was in progress, and the devil had already prompted Judas, the son of Simon Iscariot, to betray Jesus. Jesus knew that the Father had put all things under his power, and that he had come from God and was returning to God; so he got up from the meal, took off his outer clothing, and wrapped a towel around his waist. After that, he poured water into a basin and began to wash his disciples' feet, drying them with the towel that was wrapped around him.
He came to Simon Peter, who said to him, "Lord, are you going to wash my feet?"
Jesus replied, "You do not realize now what I am doing, but later you will understand."
"No," said Peter, "you shall never wash my feet."
Jesus answered, "Unless I wash you, you have no part with me."
"Then, Lord," Simon Peter replied, "not just my feet but my hands and my head as well!"
Jesus answered, "Those who have had a bath need only to wash their feet; their whole body is clean. And you are clean, though not every one of you." For he knew who was going to betray him, and that was why he said not every one was clean.
When he had finished washing their feet, he put on his clothes and returned to his place. "Do you understand what I have done for you?" he asked them. "You call me 'Teacher' and 'Lord,' and rightly so, for that is what I am. Now that I, your Lord and Teacher, have washed your feet, you also should wash one another's feet. I have set you an example that you should do as I have done for you. Very truly I tell you, no servant is greater than his master, nor is a messenger greater than the one who sent him. Now that you know these things, you will be blessed if you do them.
"My children, I will be with you only a little longer. You will look for me, and just as I told the Jews, so I tell you now: Where I am going, you cannot come.
John 33-35
"A new command I give you: Love one another. As I have loved you, so you must love one another. By this everyone will know that you are my disciples, if you love one another."
As I reflect today on John 13: 1-17 & 33-35, it is such a great lesson for each of us to practice humility as servant leaders to others each day. Jesus teaches us to show humility at all times as we serve others in all situations. As I think back on my 12 years leading our small Habitat for Humanity affiliate in Boone County, I tried to copy Jesus' example myself (and often failed) to be a servant leader in all that I did each day building houses. What did humble me each day was witnessing the many volunteers coming along side a new Habitat homeowner and doing whatever was needed to build a house from scratch erecting walls, painting, pulling wire, digging holes for plants and shrubbery to laying sod, or making lunches for all the volunteers. During each build over 300 volunteers helped a first time homeowner (usually a young single mom with small children) realize the dream of having her own home. Each and every build these volunteers were truly the hands and feet of Jesus showing the love that he asked of us – to love one another as he loved us. The true "miracle" was the home dedication as the new homeowner emotionally expressed thanks to all who helped to build her home and came along side of her over the 8-week build to offer encouragement, fellowship, and, most importantly, Christ's love for her and her children. I was truly humbled to see this so many times over during my 12 years with Habitat – volunteers just wanting to serve and show their love in whatever way possible. Just doing what Jesus asked all of us to do...to love one another.
Prayer
Dear Lord,
Help us to be ever mindful of your command to love one another as Jesus loved us. And give us the strength to follow your example each day – to lead a life of humility in everything we do. We ask you to help us to pause this week, the week leading to Easter, and really understand the great sacrifice you made for each of us on the cross. You suffered and gave your life for us so we are free from the control of sin. You love each one of us unconditionally to show us how we should love one another. Thank you Lord for all you have done for us.
Amen