Boy's Awakening #42 (tentative date)
Friday, February 16, 2018 - Sunday, February 18, 2018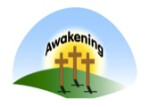 The Awakening is designed for 9-12th graders who want to grow spiritually and learn more about the journey of walking with Jesus. During this 3-day retreat we explore God's grace and the basics of Christian thinking in a worshipful setting of singing, prayer, talks, discussion, fellowship and lots of fun!
To register, talk to a friend who has attended and ask them to sponsor you or...
Signup online for the Boy's Awakening weekend.
Zionsville Awakening
4775 West 116th Street
Zionsville, IN 46077
For info, contact Craig and Julie Boyle; 317.873.0322.